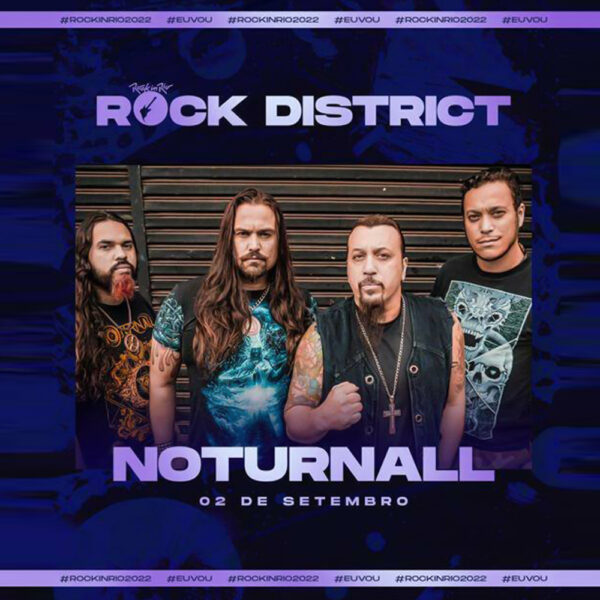 The Rock In Rio festival has just confirmed Noturnall for the Rock District stage, on September 2nd (Friday). Formed in 2014 by former members of Shaman and Angra, the band is one of the representatives of the metal scene in the world. Currently, the band has Thiago Bianchi (vocals), Henrique Pucci (drums), Saulo Xakol (bass) and Mike Orlando (guitar), from Adrenaline Mob.
Thiago Bianchi explains:
"I have no words to express how special it is to be part of this event once again. This is our third participation in Rock in Rio and our first in this great stage that is the Rock District, one of the most commented stages of the event. I'm really looking forward to performing at what is one of the biggest music events in the world. Hope to see you there with Noturnall!"
In the repertoire, Noturnall will present already established and unpublished songs from the new album "Cosmic Redemption", which should be released in the second half of the year. Known for super produced shows, Noturnall has a structure with laser beams and screens synchronized with the band.
The band has a respected trajectory in the history of national heavy metal. With successful international tours with world-renowned bands such as Distortion, Sons of Apollo, Iron Maiden, Disturbed and Adrenaline Mob. In addition, the group has already had weight participation among them: James LaBrie, Mike Portnoy, Russell Allen and Michael Kiske.
Noturnall has been featured in numerous festivals such as Rock in Rio, Abril Pro Rock and Angra Fest, in addition to starring in one of the most important moments in the history of the quartet, for being a pioneer in broadcasting a show in Russia via streaming format. -live with thousands of simultaneous views on platforms like Youtube, Instagram and Facebook.
Watch the DVD "Made in Russia": https://youtu.be/QPmaugtAh78
Watch Scream! Go!! Me!!! (feat. Mike Portnoy): https://youtu.be/8zx9X4MQjfQ
NIGHT – TOUR 2022
05/29/2022 – Noturnall + Shaman – Criciúma/SC @ Teaspoon – Tickets at https: //www.bilheto.com.br
05/28/2022 – Noturnall + Shaman – Curitiba/PR @ Ópera de Arame – Tickets at https: //www.bilheto.com.br
05/15/2022 – Noturnall + Shaman – Goiânia/GO @ Bolshoi Pub – Tickets at https:/ /www.bilheto.com.br
05/14/2022 – Noturnall + Shaman – Brasília/DF @ Toinha Brasil Show – Tickets at https: //www.bilheto.com.br
05/13/2022 – Noturnall + Shaman – Ribeirão Preto/SP @ Quinta Linda C.E. – Tickets at https://www.aphatickets.com.br
05/08/2022 – Noturnall + Shaman – Recife/PE @ Matrix Pub – Tickets at https:/ /www.bilheto.com.br
05/06/2022 – Noturnall + Shaman – Cariacica/ES @ Matrix Music Hall – Tickets at https: //www.bilheto.com.br
05/01/2022 – Noturnall + Shaman – Fortaleza/CE @ Armazém – Tickets at https:// www.bilheto.com.br
04/30/2022 – Noturnall + Shaman – Belém/MA @ Botequim – Tickets at https:// www.bilheto.com.br
04/29/2022 – Noturnall + Shaman – Manaus/AM @ Teatro Manauara – Tickets at https:/ /www.bilheto.com.br
09/02/2022 – Noturnall – Rio de Janeiro/RJ @ Rock In Rio
Noturnall on social media:
Official Website: https://www.noturnall.com.br/
Instagram: https://www.instagram.com/noturnall/
Youtube: https://www.youtube.com/Noturnall/
Facebook: https://www.facebook.com/noturnallband/